A Contract With God to Be Adapted into Film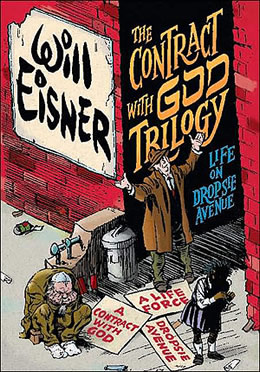 Just about every comic book ever drawn is in consideration for a big-screen adaptation these days. Long past are the times where just Batman and Spiderman would turn up on the silver screen. From American Splendour to Persepolis to Scott Pilgrim and Sin City, every alternative comic is being read and analyzed by Hollywood execs. And according to The Hollywood Reporter, Will Eisner's comic A Contract With God is now to be adapted into a live-action film.
Eisner was creator of The Spirit, which was made into a star-studded film in 2008. However, critics slated it and it was a commercial disaster. But before you brace yourself with more camp antics, A Contract with God is an entirely different comic. It's a collection of four stories about life as an immigrant in the New York borough of the Bronx. So no masked heroes and villains in this one. In fact the best comparison could be American Splendour (an adaptation of the series by recently, and sadly, deceased writer Harvey Pekar), one of the best films of the last decade.
Each of the four stories will have a separate director: Tze Chun (Children of Invention), Alex Rivera (Sleep Dealer),  Barry Jenkins (Medicine for Melancholy) and Sean Baker (Prince of Broadway). All of which are indie or upcoming film directors.